Is there anything more delightful than a Winter Fruit Salad packed full of bright, citrusy flavors from clementines, kiwis, apples, grapes, and pomegranates? Topped with lime juice and honey to accent the fruit's flavors, this is a fruit salad recipe that can't be beat! 
For more fruity recipes, check out my posts for Honey Lime Fruit Salad, Dreamsicle Fruit Dip, and Limeade Fruit Dip.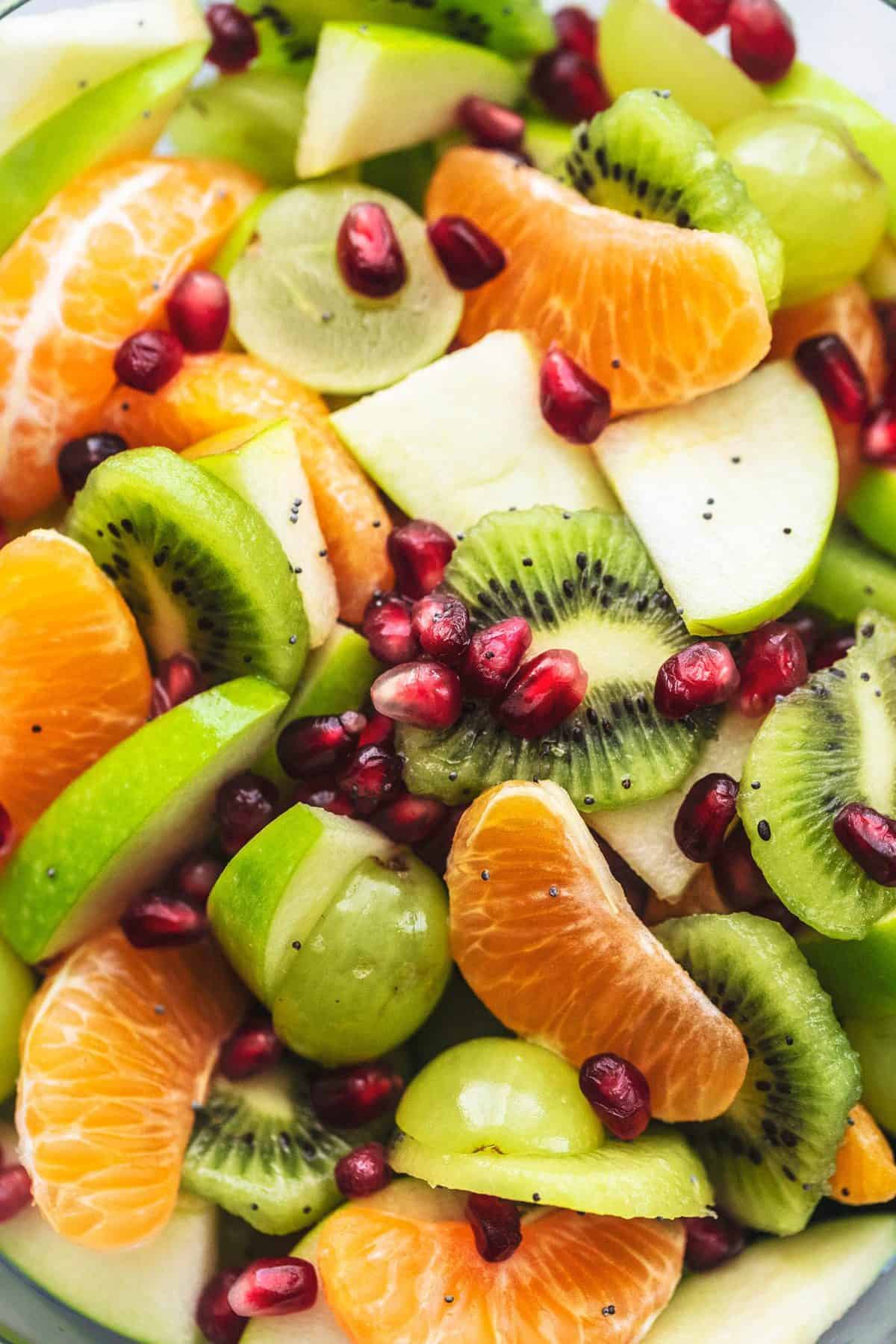 I'm a 100% summer fruit gal. When farmers market time rolls in and the vendors' tables are exploding with fresh berries, strawberries, grapes, plums, watermelons, peaches, and nectarines, I almost can't contain myself. One of my favorite things to do is make a fruit salad with every fruit I can get my hands on. Me and the hubs and the kids go through a huge bowl in about two days. 
Once the farmers markets close and the last of the tables is packed up, I kind of forget about fruit. Sure, we still eat apples, bananas, and oranges mostly but it's more of a "because we have to" kind of chore. The fruit basics just don't really do it for me. 
But then I remembered that I don't have to wait till summer to get my fruit fix on. There are plenty of yummy winter fruits available at the grocery store if you just think outside the box and get creative! So that's just what I did. No more hum-drum, one-off apples and bananas. This Winter Fruit Salad is packed full of the delicious fruits you can find right now and topped with a delicious lime and honey drizzle. Sprinkle with poppyseeds too if you're feeling particularly festive!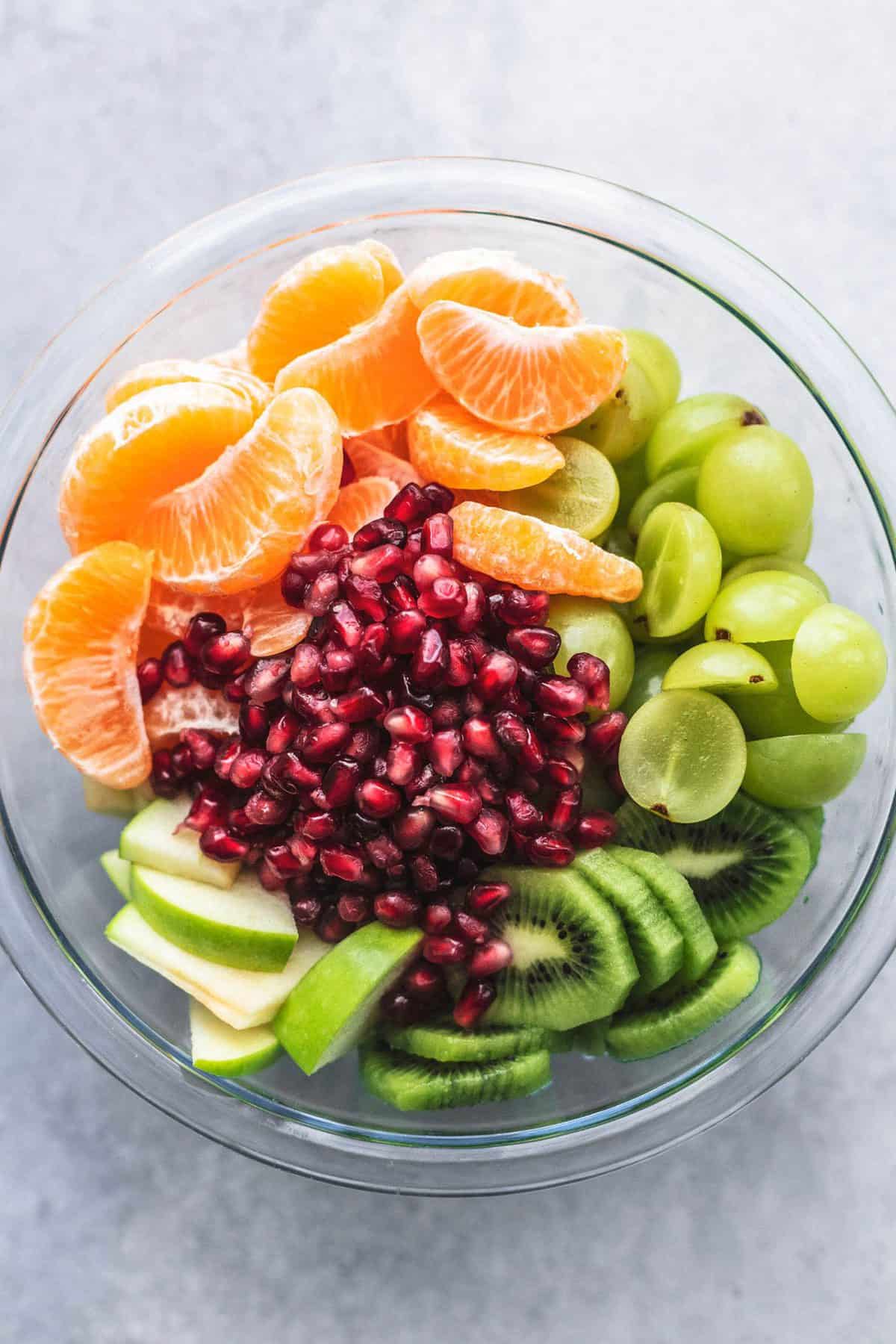 HOW DO YOU MAKE WINTER FRUIT SALAD? 
There are two ways to go about making a winter (or any for that matter) fruit salad, and even then I'm probably going overboard on how easy this is to make. 
Peel and cut all the fruit ahead of time, then put it all together. 

Peel and cut it all up one fruit at a time and add to the same bowl, then mix it all together. 
Once you've got your fruit in your bowl, sprinkle on the poppyseeds (optional) and set aside. In a separate bowl, combine the honey and lime juice. Then pour over the fruit salad and give it all a good stir. 
Cover and refrigerate until you're ready to eat it.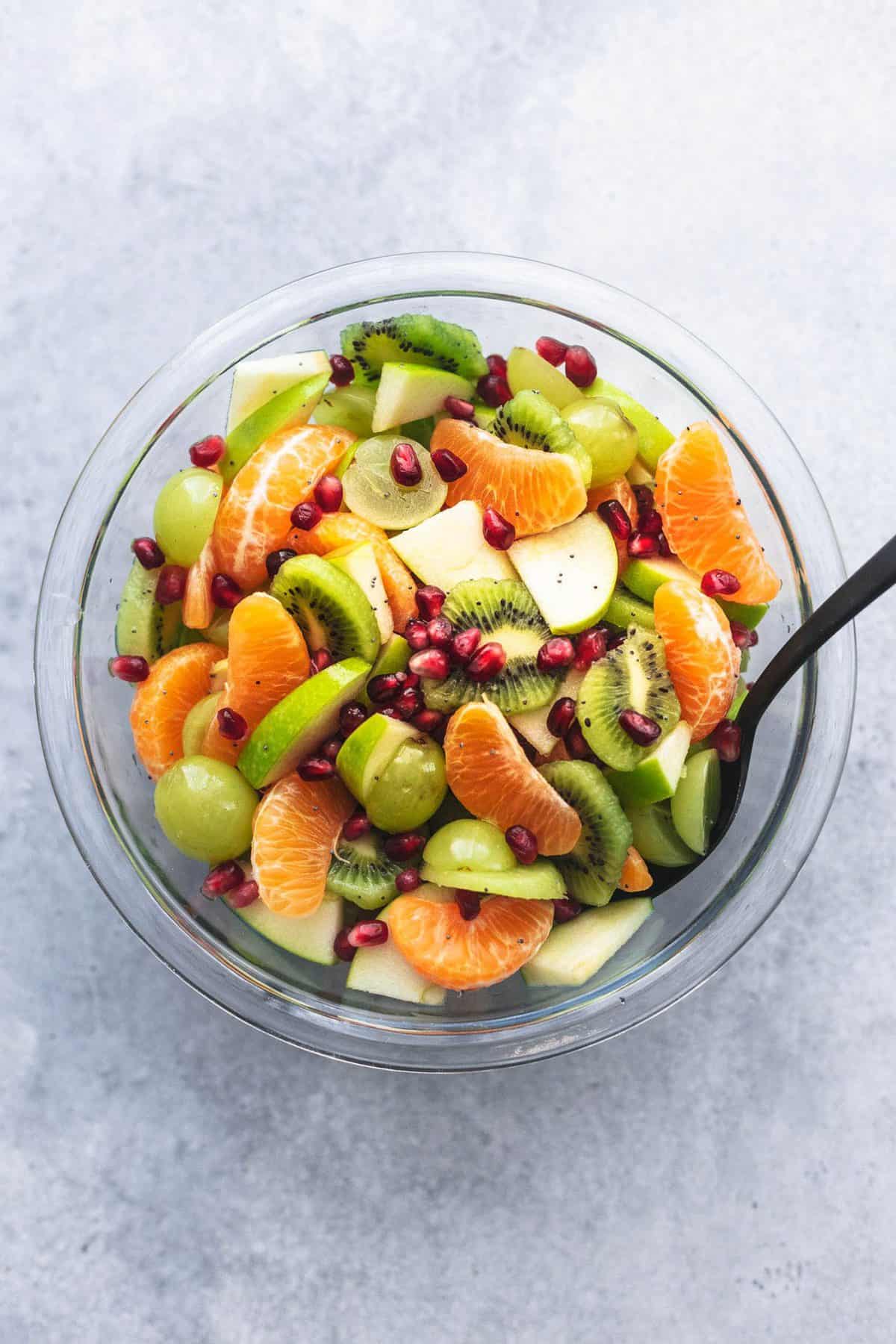 WHAT FRUIT IS GOOD FOR WINTER SEASON?
Some great fruits for winter season include: 
Clementines

Bananas

Grapes 

Grapefruit

Pears

Kiwi

Mandarins

Oranges

Pomegranates

Persimmons

Apples 

Pears

Blueberries

Raspberries

Blackberries

Strawberries 
CAN I MAKE A FRUIT SALAD THE NIGHT BEFORE?
This healthy fruit salad tastes best within 24 hours of making it so you can make it the night before an event or meal no problem. 
I would simply give the mixture a stir before serving so that the honey lime dressing for fruit salad gets incorporated as some may settle to the bottom in the fridge. 
Another option is to wait to dress the winter fruit salad with the honey lime dressing until you're ready to serve it.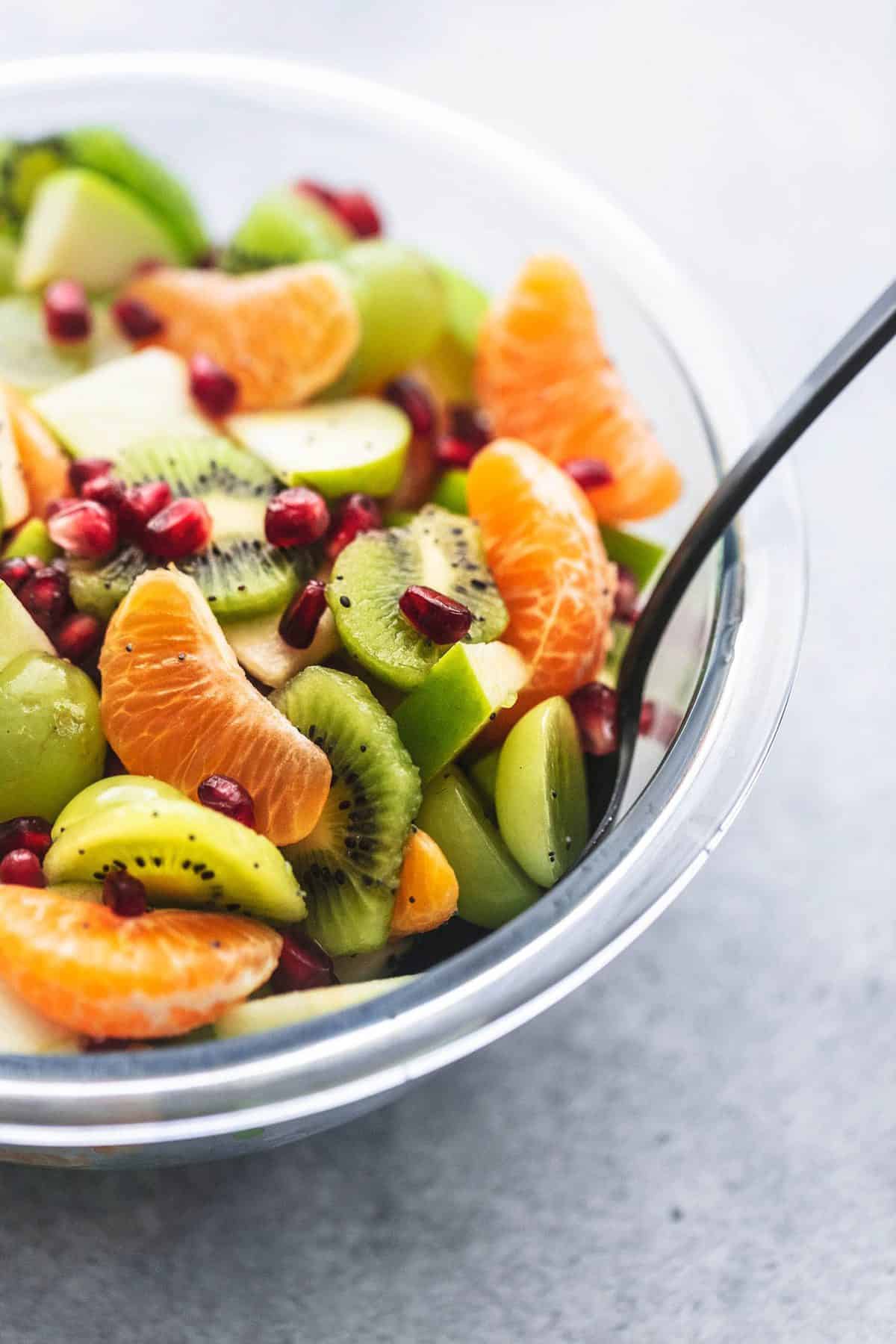 CAN I USED CANNED FRUIT IN A FRUIT SALAD? 
While I prefer to use fresh fruit whenever possible, there are times when canned fruit can really help in a pinch or especially if you live in an area where fresh fruit isn't always readily available. 
In these instances, I've found the best canned fruit for a winter fruit salad includes: 
Canned peaches

Canned pears

Canned pineapple

Canned or jarred mandarin oranges

Jarred cherries (for fun and a pop of color)

Pomegranate jewels (these are often found in the refrigerated section)

Canned or jarred papaya 

Canned or jarred passionfruit 
HOW LONG DOES FRUIT SALAD LAST IN THE FRIDGE? 
While I recommend eating a fruit salad within the first 24 hours of making it, that's because that's when I think it's the tastiest and freshest. However, it will last up to 3-5 days, so long as you keep in the fridge and in an airtight container. 
To keep it from breaking down right away, you can save the dressing for when you are ready to serve this winter fruit salad. 
Winter Fruit Salad
Delightfully fresh Winter Fruit Salad using in-season winter fruits with pops of citrus and juicy pomegranate, tossed in poppy seed and honey-lime dressing.
6

clementines, peeled and separated

6

kiwis, peeled and sliced

2

apples, cored and sliced

1/2

cup

pomegranate jewels

1-2

cups

grapes, halved

juice of 1 lime

(about 2 tablespoons)

1

tablespoon

honey

1/4

teaspoon

poppy seeds

optional
In a large bowl combine all of the fruit.

Stir together lime juice and honey. Toss with the fruit.

Serve immediately, or cover and chill up to 24 hours.
Optional add-ins: bananas, red grapes, red apples, pineapple, blueberries, pears.